Aparthotel Sheila
Via Trinacria 3 - 30016 Lido di Jesolo (VE)
Book your stay at Aparthotel Sheila
Why book through this site?
Up to 15% off
Exclusive offers and packages
Best cancellation policies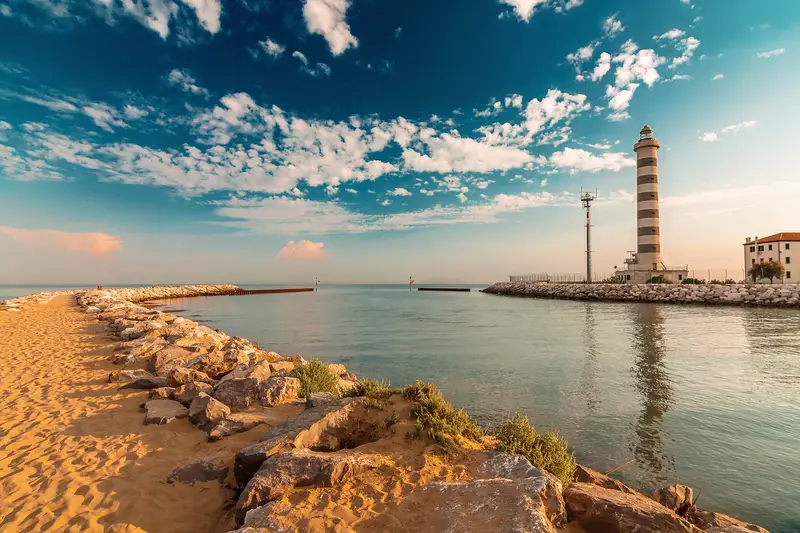 Love Jesolo
City of a thousand facets
Aparthotel Sheila is the ideal starting point to discover the many and unexpected faces of Jesolo. The tourist city centre is only two kilometres from the hotel; brimming with fascinating attractions and artistic beauties, it is also a leisure hub for grown-ups and children alike.
Jesolo is culture
Jesolo boasts thousands of years of culture. However, the nature of the terrain it sits on and the floods that have taken place over the centuries have washed away important pieces of evidence of this culture. What has remained is a treasure: the archaeological site of the Ancient Walls (Antiche Mura), the Caligo Tower remains, the Piave Vecchia lighthouse. If you're a museum buff, don't miss the Vidotto Civil and Military Museum, which hosts weapons and remains from one of the most tragic episodes of WWI, or the JMuseo, the 5-story civic museum of Jesolo, home to contemporary exhibits and exciting events.
Jesolo is theme parks
Jesolo offers countless leisure options for the whole family. There are plenty of theme parks just waiting for you! Caribe Bay is a corner of the Caribbean within walking distance from the city centre, with 80,000 square metres of pure fun and relaxation in water attractions surrounded by palm trees and white sand. New Jesolandia is a theme park at the gates of Jesolo Lido, with fun attractions for all ages, sweet stands, and theme evenings. If you're travelling with small children, stop by GommaPiuma, a paradise with bounce castles of all shapes and sizes.
Jesolo is passion for science
Jesolo is a non-stop surprise for science and nature aficionados. The Tropicarium Park, only 3 km away from Aparthotel Sheila, is a zoo populated by several animal species, subdivided in the theme areas Tropicarium, Predators, and Aquarium. The Fabbrica della Scienza (Science Factory) of Jesolo is an interactive universe where visitors can live a special playful and didactic experience to discover physics, the laws of nature, and space.
Jesolo is adrenaline
If you're travelling with friends, adrenaline will be the motto of your holidays. Fear not, Jesolo will not let you down! Start with a ride of the Ferris wheel, one of Europe's largest, and enjoy the breathtaking view from its highest point. Next, try the Blue Track as you challenge your friends in this 80,000-square metre go-kart area. Keep your body moving as you play a couple of holes at the Jesolo Golf Club, a green oasis in the heart of Jesolo Lido, with greens dedicated to players of all levels. Wrap up your day with an aperitif on the beach and let yourself go in the night life of the City Beach, with music and lights all through the night.
Our location
Via Trinacria 3 - 30016
Lido di Jesolo (VE)
Sunny Holiday
VAT No.: 03111490276
Visit our partner hotel in Jesolo!