Aparthotel Sheila
Via Trinacria 3 - 30016 Lido di Jesolo (VE)
Book your stay at Aparthotel Sheila
Why book through this site?
Up to 15% off
Exclusive offers and packages
Best cancellation policies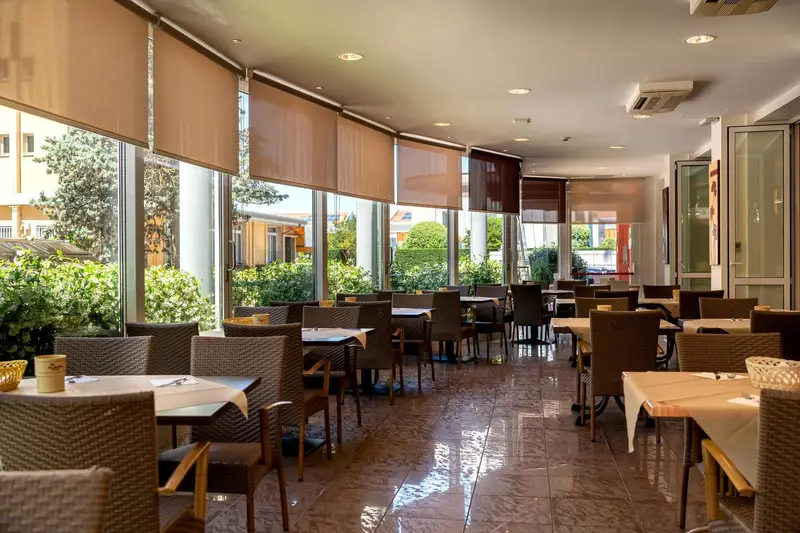 Food & Drink
Your tasty break
When you're on holiday, relaxation is a mantra, a deep need to disconnect one's body and mind from the routine and to regain your strength. This is why we're taking charge of your appetite: from our rich breakfast served in a modern-style hall, to lunch and dinner, which you can enjoy at the Sunrise Restaurant, right next door to the Sheila Aparthotel.
Kick-start your day with the proper charge. Our buffet breakfast is a feast for the senses, whether you like your breakfast sweet or savoury. Top-quality jams and honey, freshly baked items, delicious cakes and pies, plenty of fresh fruits and vegetables are all accompanied by the classics of American breakfast, such as eggs, bacon and cold meats. Vegan or gluten-free options are available upon request.
The Sunrise Snack Bar and Restaurant is the perfect place to let yourself be tempted, regardless of the time of day. Located within our partner, the Kennedy Hotel, only 150 metres away, the Sunrise offers specialities of the Mediterranean tradition in a cosy setting made even more precious by the beautiful terrace over the main pedestrian street of Jesolo. Hot first courses, fragrant pizzas, inviting hamburgers and club sandwiches, fresh salads are just some of the many options in their menu. Try them all!
Open all day and embellished by a characteristic terrace with table and armchairs, the lounge bar is a delicious embrace on long summer days, after a swim among the waves or after a walk downtown. The perfect place for a fruity cocktail in the hottest hours, it also serves regenerating drinks around the swimming pool.
Useful Information
Breakfast is served every morning from 07:30 to 10:00 in the breakfast hall. The lounge bar welcomes you from 10:00 to 22:30. The Sunshine Restaurant, at the Kennedy Hotel, is open every day from 10:00 to 22:30 and our guests can enjoy a special 10% discount.
Useful Information
Our location
Via Trinacria 3 - 30016
Lido di Jesolo (VE)
Sunny Holiday
VAT No.: 03111490276
Visit our partner hotel in Jesolo!